by Phil Van Treuren, author at Political Campaigning Tips
Although political campaign strategy is a hobby of mine, my full-time career is in the fields of Search Engine Optimization, Internet Marketing and Online Social Media. All three are becoming more and more applicable to political campaigns of all sizes, and even candidates in local elections are starting to realize that simply having a website doesn't capitalize on the many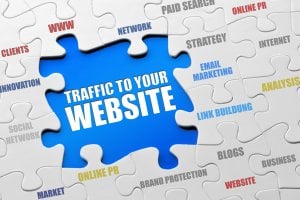 different ways to connect with voters online.
Search Engine Optimization, or SEO, is the art and science of building a website that is most likely to show up prominently in search engine results when someone types in a relevant search. There are two main components of SEO: on-page efforts (stuff you do ON your website) and off-page efforts (stuff you do on OTHER websites). Both are equally important, but before we talk about them, let's focus on your targeted keywords.
As a candidate, you want to make sure that your campaign website appears in the results for a specific subset of web surfers: The people in your district who will have the opportunity to vote for you. When putting together your SEO plan, the first step is to figure out what "keywords" and "keyword phrases" these people will likely be using to search online for information about your political race.
1. Use Your Name as Your Domain
The most obvious keyword phrase you'll want your website to rank highly for is your own name. If people in your district type your name into a Google, Yahoo or Bing search and your site is listed on the third page of results, they will likely never get to your website. Virtually no one goes beyond the first page in these searches.
So, how do you make sure your website ranks well in a search for your name? By making sure that your domain name — or website address — has your name in it. My own personal campaign website, www.PhilVanTreuren.com, didn't take long at all to rank number one in search engines for a query on my name.
If you have a common name like "Bob Smith," you aren't going to be able to get your hands on a domain that consists of your name only. Instead, consider lengthening it to "BobSmithForCouncil.com" or something similar. Just make sure that your name is spelled out in the domain, since the domain name is a powerful component of all that search engine algorithms use to rank sites for given keywords.
One thing to keep in mind, though: DO NOT make your domain too long, or it will be confusing for people and could even hurt you in the search results. "BobSmithForClevelandCityCouncil.com," for example, is far too lengthy.
2. On-page SEO: Weave Your Keywords into Your Content
Wanting to rank high for a query by the candidate's name is pretty obvious. But how do you define other keyword phrases that voters might use when looking for information on your race? By thinking of the many search terms that define your election, like the name of the office you're seeking and your state, county, district or city, then making sure your site ranks high for those terms, too, by placing them in your website's content.
When designing a local election candidate's website, I always try to weave my targeted keyword phrases into the text throughout the site — especially on the homepage. While you want to write for readers and NOT for search engines, the inclusion of these SEO keywords in content is another important way to help your website naturally rank well in search engines.
Additionally, when setting the Meta Title and Meta Descriptions for your site, make an extra effort to include targeted keyword phrases there, as well. A homepage Meta Title along the lines of "Bob Jones for Cleveland City Council" is great, since it mentions the candidate's name, the city he is running in and the position he is running for.
3. Off-page SEO: Build Links With Lots of Other Sites
Having a political webpage that is optimized perfectly for ranking by your target keywords is great, but it won't do you much good unless you do some off-page search engine optimization, as well. Off-page optimization has one very important component — link building, or obtaining links on other websites that point back to yours.
The more links to your election campaign website from other domains, the higher search engines will rank your site for its relevant keywords. While the average website only has a few external links pointing back at it, older and more popular sites can amass tens of thousands of links, which makes for a lot of "link juice" and higher rankings.
You don't need to worry about getting thousands of external links, but you do want to try to get as many as you can. The "low hanging fruit" of link building are local web directories, community websites and other online resources that give a free link if you provide them with your site's information.
Additionally, you can contact local bloggers and request that they link back to your website. To make the request more appealing, you might offer to write a guest post on their blog (and backlink it), or ask if they would be interested in doing an online interview about your campaign.
There are many different ways to build links back to your campaign website, and with a little work you should be able to get dozens within a few weeks. As your backlinks grow, you will notice your website slowly climb in the search engines — which means more visitors, volunteers, donors and votes for you on election day.