You're all familiar with the fantastic online fundraising numbers that President Obama has boasted. His campaign's fundraising initiatives that originated from digital initiatives raised over $400 million in 2008 and over $500 million in 2012, according to TIME Magazine. Those are millions of dollars raised solely online. While his race was national, his success points out opportunities for races of all sizes.
Of course, a political campaign is very different from a nonprofit fundraising campaign in many ways. For one, the timeline for a political campaign is relatively short, while nonprofits continuously raise awareness and donations. For another, a political campaign is chiefly about a person seeking election and what that person represents to the voters, while people generally support a nonprofit because they identify with its cause.
So are there any strategies to be stolen from political fundraising for nonprofits? Absolutely.
Optimizing Event Deadline Urgency for Donations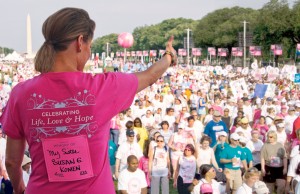 Event fundraising can create a sense of urgency for nonprofits that mimic that of a politician running for office. While the urgency might not be quite as grand in some cases due to size of the event and other factors, it can generally still help
to accelerate donations in a short time span. Let's take a look at how event fundraising contributes in relation to overall fundraising for one of the most well known nonprofit giants, The Susan G. Komen Foundation, which is dedicated to the cause of finding a cure for breast cancer.
The way Susan G. Komen Race for the Cure fundraisers raise donations for this emotionally touching cause is personal. You're supporting your neighbor, co-worker, friend, or family member through your direct sponsorship— and like political campaigns, there's a deadline.
In fiscal year ending (FYE) 2012, Komen events, including Race for the Cure, generated $169 million out of the year's total contributions of $301 million according to CharityNavigator.org. That's a whopping 56 percent of total contributions due to events. While we don't know how much of this was raised
online, we can assume that percentage will continue to grow for them just like it is for many nonprofits and political campaigns.
A Look at Online Fundraising Trends
If we take a broader look at the nonprofit sector, we find that online fundraising grew by 27 percent from recurring donors and 20 percent from repeat donors in 2012 from the previous year, according to a 2013 nonprofit online marketing study done by Blackbaud, a technology company focused on nonprofits.
Another interesting point to us, as a firm that services both nonprofit and political clients, from the report is that nonprofit contributions don't seem to take a hit during election years, contrary to what one might presume.
"We find that donors in America can distinguish between giving to their favorite charities and to a candidate or issue that they wish to support. One gift does not replace the other," the report says.
Lastly, the report notes that the days of analyzing data in siloed campaigns are over and iterates the idea of a shift to integrated marketing across channels to maximize results. So online donations are not the only part for a successful fundraising campaign, but one growing in importance.
What's your online fundraising goal for 2014 versus 2013? (You do have one, right?)
Check back for our next piece in the series to get some best practice tips for increasing online donations or contact us here to find out how we can help you meet your nonprofit's online fundraising goals.