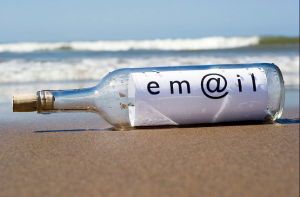 Some people think email marketing is old school. While it is ancient in online terms, it's still an extremely important part of a campaign. In fact, it may be even more important now with so many other things buzzing around on our screens all day.
The best way to draw in and keep a fan or customer is through permission marketing—meaning they opt-in to your information and are not put on a list without their knowledge.
A recent study showed that 77% of people prefer email for this kind of communication—and it gets results. When someone opts in to receive your content, they feel like part of a team they wanted to join. This gives you a massive advantage in terms of motivating them to take action on your behalf and begin to make a big difference on and offline.
There are some easy tweaks you can make to your email marketing tactics that can take you from average to awesome. Here are a few:
1 Personalize. Using a personalized subject line or email intro yields higher open rates and click throughs. Even though people know the email isn't completely personalized, their attention is piqued by the use of their name and they gravitate toward the information without realizing it.
2 Test. Test. Test. Email systems give you the ability to test different subject lines and tactics with varied groups to see what works best. Pick a few different subject lines and send each out to small groups on your list. You will easily see which one does the best and then you'll know which is optimal to send to the larger list.
3 Divide and Conquer. Everyone on your list is different and individuals appreciate recognition of their personal affinities. That's why it's important to gather as much information as possible on your list members. As time goes on, you can see who clicks on what and who is more interested in this subject over that subject. Then, you can begin to divide your list into groups for more niche targeting. As your list becomes more refined, you'll see open rates and click-throughs increase as a result of your stealth research into what each group is most likely to act upon.
4 Research Subject Lines. You don't have to rely on just your own camp for data. Invaluable research data on best and worst words to use for subject line success. For example, studies show that if there is an urgency reflected in your subject line, people are more likely to act. There are many tactics to test and try—research ideas that might work for you.
5 Change Your Template. Struggling with click through? The problem may be your template. Is it visually friendly? You must test different templates to see if one rises above the rest. Small visual changes can draw reader eyes where you want them to go. Don't miss out on a chance for success by being lazy with template testing. Just do it.
6 Calls to Action. This is Marketing 101 but you'd be surprised how many people forget to include a strong call to action—or too many calls to action. Think about what it is you'd like your email reader to do, then make that the one clear, simple request you include in the email. It should be highly visible, large and stand out from the rest of the email. If they get one thing from this piece of mail, it should be this so make it a good one.
Crafting a higher open and click-through rates isn't something that can be done overnight. It takes employing some of the tactics mentioned above—and then some. Each audience is different and you'll need to hone in on the specifics of your email list to find optimal success in the end. Happy testing!