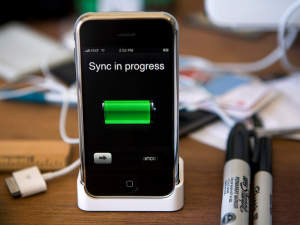 While many of you are taking a breather from the craziness of the 2014 campaign season, it won't be long before it's time to begin setting the stage for 2016.
Today, we continue our series on the importance of maintaining an effective, updated Walk Book -- the traditional tool used by campaigns to reach local voters in a more personal way.
The data portion of the walk book is crucial -- as we covered last week -- but it's much more powerful when it's being used with the best, most innovative technology. That's what we'd like to hone in on in today's post.
It's Time to Go Digital
If you aren't already using a digital walk book, it's time to upgrade. That may sound like common sense but some campaigns are still going old school. This will most certainly leave you in the dust of your opponent -- so invest in the right apps to give your campaign the best chance to reach voters who can swing your way.
The great thing about going digital is that you can purchase programs that stimulate automatic updates to geography and seamlessly weave together that information with the voter details of those who live in the home.
Choose the Right Tool for your Campaign
The app you use must include things like location-based technology and updated, demographic targeting information, as well as integrate with your own data about what kinds of voters you need to reach while canvassing. This way, your efforts are more efficient and strategic.
The technology you choose may depend on what your goals are and how many people you have to reach them. Do you have a lot of ground to cover or just a niche target group? Do you have 100 volunteers or only 10? Once you've identified the parameters, it's time to decide how to proceed.
Campaigns trust a variety of apps but here are few of the most popular:
This is by no means an exhaustive list but it is a place to start if you are interested in researching which app might be best for your campaign.
Get the Technology with the Right Integrations, Data Options
Once you've chosen a platform to use for your digital walk book, it's time to load it up with data. This will be previously collected data as well as new information you will secure with your platform. The app systems generally make it easy to organize and file information so it's easily searchable and able to be filtered as well.
Details like education, income, behaviors and voter history are crucial points to include in your new technology for targeting. Thankfully, most of the platforms available can help campaigns cull the relevant information for voters if you don't have it already.
This previously loaded data is a great foundation but many apps offer even more in-depth, real time data. For example, i360 is able to collect and update new data in real time so canvassers have the most up-to-date intelligence on the minute. If canvassers can communicate with one another via the app with updated information, it can transform the personalized attention each potential voter receives and help avoid missing opportunities.
Data Capabilities to Be Aware of
Within platforms like Nationbuilder, you can dig into the National Voter file and identify individuals based on unique online IDs, such as email addresses, social media profiles and more.
Additionally, there are features like "auto districting" which automatically update revised district maps, as well as tracking when and where individuals within the district move according to public record.
There is ample public data out there that many campaigns simply don't access because they aren't aware of how to get it. Investing in one of the apps mentioned above solves multiple problems in one swipe.
In addition to voter demographic and background information, you can have access to geo-targeted online trends and hot issues of the day, using the app or another social media device. You want to be sure you are discussing issues a particular voter actually cares about in order to motivate them to vote for your candidate.
Start Discussing Canvassing Technology Options
Data technology is at a peak right now and 2016 is the first opportunity many campaigns will have to truly utilize it to the full extent of it's capability.
Ensuring your campaign's walk books are the most comprehensive and up-to-the-minute can be may be the most important thing you do -- so don't procrastinate. Start researching today or contact a Campaign Now walk book specialist to discuss options are prepare.