In my last post I wrote about the web content that drives donations. This content typically resides on your website, which serves as the hub of all your other online activities. Here you have complete control over the display of your content and, as importantly, this is where you want to drive traffic to maximize donations. It is also the launching point for your social media channels, as well as a means of providing deeper content that can be linked from those channels.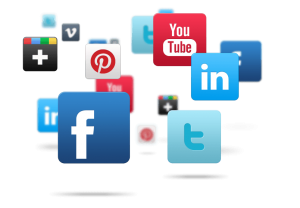 When considering social media, as with everything you do within your nonprofit, you must begin within the context of your overall organizational strategy and the resulting communications plan. Don't have either one? Start building them. Within your communications plan's situation analysis, the key aspects for social media are setting goals, examining your internal capacity, and assessing what your competition is doing.
Goals
The goal setting can begin with reviewing what's currently happening with your social media communications. Take some time to document what you're currently doing. The big benefits of social media, and the web overall, are the statistics that are readily available. Start with the number of Facebook users, Twitter followers, etc. This is the starting point for measuring the results of your next steps to improve your social media. For further background on building your social media plan, I really like the presentation on Slideshare titled 10 Steps to a Successful Social Media Strategy for Nonprofits.
Capacity
While you're capturing the statistics around the present state of your social media channels, also capture how much time you're devoting to each of the channels. Jot down how many staff members are engaged in maintaining your presence with each channel. This will become the foundation of determining your organization's capacity for maintaining its social media presence. Then, as you review your next steps, you can determine if you need to reallocate staff time, involve volunteers, or perhaps engage freelance talent in the process.
Competition
Here's where things get really interesting. As you're reviewing your strategic plan, examine more closely the competition segment. What are your competitors doing? What social media channels have they activated and how well are they doing with each one? Have they activated a channel that you're not on?
One good source for an overall review of what others are doing in social media is Nonprofit Tech for Good. While the article 11 Nonprofits that Excel at Social Media is a bit dated, I particularly like the listing of criteria they used to evaluate each organization's social media presence. They included consistent branding across channels, consistent and fresh content posting, an active fan base on Facebook and Google+, and more.
More recently, Sumac.com published 15 Extraordinary Social Media Campaigns. Just glance down its quick-hitting list of accomplishments — Epic Change used Twitter to raise $11,000 in 48 hours to build a classroom in Africa, with over 98% of the donors new to the organization; Charity: Water raised $100,000 via its Facebook cause page; Lupus Foundation of America used its Facebook cause page to increase membership by 584% in six months, along with a 790% increase in online donations via Facebook. There are many more stories on the list, all with great ideas that you can tap for your organization.
Consider deeper background on Charity: Water's campaign at http://socialmediathon.org
Channels
So, with all those great success stories out there, how do you allocate your scarce resources to service the voracious appetite for social media content? One key is to make sure you're on the right channels for your organization. What channels are your primary audiences using? You can, of course, start with the available data on the overall audience for each social media channel. SearchEngine Journal has a superb infographic titled the Growth of Social Media. It is an excellent starting point to determine the best social media channels for your organization.
Facebook: You've got to be on this channel — 1.15 billion monthly active users. Note that photos and videos are crucial to engaging this audience. We also know that 189 million users are mobile-only — think about this critical mobile audience as you create content and engage in conversations.
Twitter: This is also a vital channel for sharing information, with 500+ million total users and 215 million active users each month. The fastest growing demographic here is the 55 to 64 age bracket. These people have money to donate and want to be involved in causes that are important to them. Twitter is also a great way to engage in conversations. The challenge is that those conversations are going on around the clock.
Google+: The infographic shows over 1 billion total users, but 359 million monthly active users. Its fastest growing age bracket is 45 to 54. Is that the age that best fits your organization? This is something to think about as you consider how to allocate your resources within social media.
LinkedIn: This is the professional social network with more than 270 million users. It is a great place to find volunteers and share professional networking events, find board members, find groups, and to establish groups. You can also promote your organization's thought leadership on key topics. The Fundraising Authority has published a great article titled Are You Effectively Using LinkedIn at Your Nonprofit? Check it out.
Those are the "big four" social media channels. I would be hard pressed to find a nonprofit that didn't need to be on all four of these channels. In addition, as you consider where your audience is and how best to reach them via social media, you should also give consideration to other channels that fit your organization. One that is growing in importance is Pinterest, with 70 million users. It also takes full advantage of the growing consumption of photos and images via social media. The other channel of importance is YouTube. It is now the No. 2 search engine on the web and has over 1 billion unique users each month. If you haven't done so already, check out its Nonprofit Program.
Public Relations
Social media has become a very important component of an organization's public relations efforts. One aspect is to monitor the online conversation about your organization and its causes. Another is to tell your story via these channels, and thereby engage the public in your cause. Finally, you'll also need to merge these first two to tell your story within the context of the news of the day and, as a result, influence the ongoing public discussion.
Brandwatch has published an interesting article titled 3 Nonprofits Who Shine on Social Media. It highlights Amnesty International's efforts to engage corporate and government leaders via Twitter messaging in an attempt to press home its issues and causes. The article also highlights Greenpeace's efforts to capture attention and influence events in its own special way. These are just two examples of how to use your social media presence to drive your public relations.
Further Resources
We could go on and on about using social media in all aspects of your communications plan to help fulfill your organization's overall strategy. If you've read this far, you probably feel that I already have gone on and on. Even so, for further study and information check out this list of social media resources at the National Council of Nonprofits.
And, of course, your best option is CampaignNow. Its specialists are the experts in nonprofit fundraising and campaign management. Just consider,
What: Social media is the pulse of the web. Campaign Now understands how to tap into this vital resource and use the power of grassroots, word-of-mouth, and viral advertising to drive your business.
Why: Social media allows your organization to interface directly with the people who use your services or products, or are interested in becoming involved with your cause. Our content and design team will help you spread your message through engaging content and design.
Best wishes in your efforts to build your social media channels and use them to activate your audiences. If and when you need some assistance, message us here or give us a call at 855-329-4327.

Jim Wilson is a freelance writer and the founder of PathForeWord, a custom writing and communication consulting service. His career includes over twenty years leading nonprofit communication and publishing operations. In his free time he's involved in volunteer leadership roles involving amateur radio and Scouting. He writes the blog PathForeWord on career topics and K5ND on amateur radio topics.