Heading into Saturday's Louisiana gubernatorial jungle primary, there was near certainty among the media and pollsters that none of the candidates had a chance to win the election outright with at least 51% of the vote.
How wrong they were.
"I didn't see this coming," said Robert Collins, a professor of public policy and urban studies at Dillard University in New Orleans. "Nobody — and I mean nobody — saw Jeff Landry winning outright."
On Saturday, Republican Jeff Landry pulled off the rare feat of winning the Louisiana gubernatorial primary outright, winning 52% of the vote, avoiding a November 19th runoff election. The last time a candidate for governor took Louisiana's jungle primary was 2009, when Bobby Jindal won the day with 54% of the vote.
So what happened here, and why did most expert election-watchers get it so wrong?
Polling indicated momentum for Landry heading into primary
Heading into Saturday's primary, Jeff Landry was the undisputed frontrunner in the field of candidates. However, mainstream polling did not come close to predicting what was an outright victory for the Republican candidate.
According to the RealClearPolitics average of polls, which admittedly was a small sample of only four statewide polls, Landry held around 39% support, with Democrat Shawn Wilson in a distant second with an average of 24%.
However, other polls heading into the October 14th primary suggested that Landry did in fact have a chance to win the jungle primary and avoid a November runoff election. However, the consensus among election-watchers continued to predict a November runoff.
Historically low turnout, especially among Democrats
Saturday's gubernatorial primary saw the lowest turnout in more than a decade, and 280,000 fewer votes cast than in the last primary held in 2019. In fact, all but one parish turned out a higher number of voters in 2023 compared to 2019.
While pollsters had predicted relatively low turnout, the anemic 36% voter turnout on Saturday shocked even the most veteran pollsters in the state, especially in Democratic strongholds where Democrat candidate Shawn Wilson desperately needed to turn out high numbers to stand a chance. In Orleans parish, the Democrat's home field in Louisiana, voter turnout was a dismal 27%. In the city of New Orleans alone, turnout was 30% lower than in 2019.
But not only was turnout incredibly low in Louisiana's historically blue areas, the percentage of votes for Jeff Landry was surprisingly high, suggesting that the Republican garnered more support from Black voters than any other Republican in recent memory. In 2019, Democrat John Bel Edwards won 91% of the vote in precincts with 70% or more Black voters. This time around, Jeff Landry was able to secure 12% of the vote in those areas, suggesting that the Republican was able to pry away Black support from Democrats. This increased support among Black voters coupled with dismal turnout in Democratic strongholds in general, helped seal the primary win for Landry.
A big win for Team Trump
Landry's win on Saturday is also a feather in the cap of Donald Trump, who endorsed Landry early-on in the primary.
On Saturday, the former president took to Truth Social to voice congratulations to his chosen candidate.
"A very BIG VOTE in the GREAT STATE OF LOUISIANA for A.G. Jeff Landry, who will now become the Governor. Despite many people running, Jeff was easily able to get a majority, meaning that there will be NO RUNOFF. This is an amazing victory for a man who will be a truly GREAT GOVERNOR. Congratulations to all! DONALD J. TRUMP"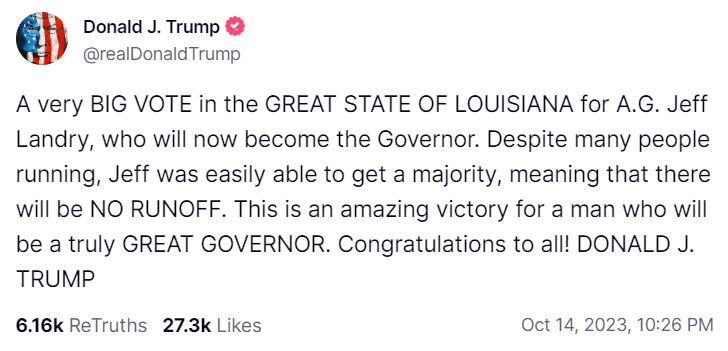 Trump's endorsement of Landry in May was met with predictable media and Democrat criticism, with many suggesting that Trump's endorsement posed a liability to the Landry campaign given the former president's ongoing legal woes. After Saturday's primary, however, it's safe to say that a Trump endorsement in Louisiana is a very valuable asset for Republicans in the state.