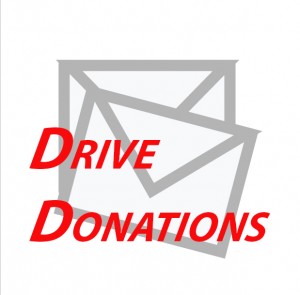 It sure is easy to devote your campaign fundraising activities to online channels. After all, they're cheap and can be reasonably effective — particularly when you're targeting younger generations. However, you'll be very hard pressed to surpass the effectiveness of direct mail. This month in our Nonprofit Series we're going to focus on direct mail, and how to make it even more effective for your organization. This is the first of four nonprofit posts devoted to direct mail.
Direct Mail — Dead?
I love this recent Q & A on Guidestar about direct mail. Here's a sample:
Question: Is the Internet the death knell for direct mail?
Answer: Not even close. Direct mail is a long way from death. It's still the most effective fundraising medium (after the church offering basket) and it's many times more effective than email.
AdvertisingAge has provided some important statistics about the effectiveness of snail mail versus email, based on those who actually purchase a product or, in our case, donate.
Response Rate Direct Mail 34 out of 1,000
Response Rate Email 1 out of 1,000
The rub, of course, is that direct mail costs far more than email and online solicitations. Even so, you need to deploy all the tools in your kit bag to generate donations for your cause.
So, what are the key factors in direct mail efforts? In particular, what are the factors that drive donations?
Driving Donations through Direct Mail
Here's a short list of key considerations for your direct mail efforts: messages, mailing list, timing, and printing costs. Later in this series on direct mail we'll look into personalization, moving donors online (as well as integrating your online and direct mail campaigns), and the critically important testing and measuring of your results. So, today, let's look at this short list.
Direct Mail Messages
So much of what we've been talking about over the last few months in this blog has been about telling your organization's story. That needs to happen regardless of the medium (online, mail, or in person). It's your mission and what you're asking people to support with their time, talent, and treasure.
The article 10 Key Fundraising Best Practices covers the landscape nicely. The compelling message that you must deliver to generate donations starts with your organization's mission, goals, objectives, and results. This is who you are, what you're doing, and contains everything you need to express the impact you're having and how donations can make a difference.
One thing I like about direct mail is that it has a tangible presence in someone's hands. Plus, everything about it is under your direct control — from the type of paper and ink color, to the font and physical layout. That type of presence can only be found via mail. Websites and emails definitely can't deliver that type of control or that type of tangible presence.
Given that, make the most of it. Choose your paper and branding to reflect your organization. Mix up the presentation of the message by using underlining, bold type, subheading, and hand-written notes in the margins to draw attention to your key points. Set it up as though you're trying to get your message across in 10 seconds — which is probably how long that direct mail piece will be in someone's hands.
In those 10 seconds, not only get your message across but also make a request for further action. This can be reading more deeply into your letter, getting online and registering for an event, or making a donation. Get your call to action across as quickly and compellingly as possible
Direct Mail List
Never, ever pass up an opportunity to capture someone's mailing address and email address. This needs to be a critical element of your website and during your events. Sign people up for more information on your programs and, as importantly, the impact of those programs.
Then start building the data around that donor. Demographic information will be critical, as will the person's donation history. I like the article Six Tips to Help Increase Your Nonprofit's Direct Mail Response. It states that 65% of your direct mail success is related to your list. You must keep it up to date. With that directive, it also point out that 25% of your list will go "bad" over time. People move, grow disinterested, etc. Your mailing list is clearly the most vital aspect of your direct mail campaign.
While we note that 25% of the list will go bad in a year's time, don't overlook the value of engaging lapsed donors. At one time they were generously supporting your organization. It's time to check back with them and re-engage their interest through a compelling update and a request for their support.
Timing — Recency and Frequency
Recency and frequency go back to my old training development days, referring to how well the training is expected to work. It all comes down to how recently you've provided the lesson and how frequently. Fundraising is no different. You're teaching your supporters first that they can expect to hear from you often, which in turn will be quite recent. You're, in essence, training them on the communication they can expect and the action you expect from them in return — stepping up to change the world through support of your organization.
So how frequent is the best approach? Many organizations send 12 to 18 appeal letters a year as well as three to six newsletters. There is no evidence that sending frequent messages reduces donations. In fact, if you're not reaching out frequently, you're more likely to lose them entirely.
While recency and frequency are important, there are also optimum times of the year to send your direct mail campaigns. It varies by nonprofit organization. Do the research and build your schedule to take advantage of critical timing for your organization. Also stay tuned to this blog for insight into testing and measuring that can help identify your optimum timing.
Printing Costs
A first rule here is to do some competitive shopping for your printing and mailing services. I'm reminded of a phrase that one of my favorite printing consultants left with me: "Cost is a fact, Price is a decision." What she was referring to was that the cost of printing (ink, paper, labor, overhead) is indeed a fact. But the pricing is at the option of the printer. They may have other work that meshes well with your requirements and can, therefore, optimize equipment usage. Or they may have some open time on a press and want to earn revenue rather than let their equipment sit idle. So competitive shopping and negotiation need to be at the top of your to-do list to lower your costs.
I also recommend that you work closely with your printer. Bring your goals and objectives to the table but listen closely for how they can optimize the production of your item, or provide more creative options that you didn't know even existed.
For example, consider gang print runs. This is where you have two or more separate pieces with similar size, paper, etc., that could be run back-to-back on the same press. You're saving setup costs on the press and overall time spent on the press by the printer.
End Note
Given all this discussion, it's timely to consider the overall objective of your direct mail program and set some expectations on the potential results. That Guidestar Q & A noted above had yet another great question:
Question: Can I assume that our mailing to acquire donors is going to be a losing proposition?
Answer: That's a reasonable assumption. You are fortunate indeed if you realize net revenue while acquiring new donors. It happens, but it's not normal anymore. Fundraising is about building relationships, not getting people to drop some money in your bucket and walk away. The "profit" comes from ongoing donors, who give more often and give larger amounts. Money-losing donor acquisition is the way you find those profitable donors.
Direct mail, while by far the most effective approach to raising money, is just the start of a long-term concerted effort to engage potential donors and put them on a path to further support for your cause.
Need some help or insight? Contact Campaign Now. Its specialists are experts in direct mail campaigns. They've been down this path many, many times and learned along the way what is successful and what is not. You can rely on them to get your direct mail program moving in the right direction.